Realise your desires with the new Loyalty Card* and get discounts up to 20% on the outlet price.
Become a member of Mondovicino Outlet Village! Collect your Loyalty Card * and you will enter a world of promotion, advantages and contests.
As a member of Mondovicino Outlet Village, you will enjoy other benefits;Join our Newsletter.
* The loyalty card has a cost of 3 euros. Ask it to our infopoint.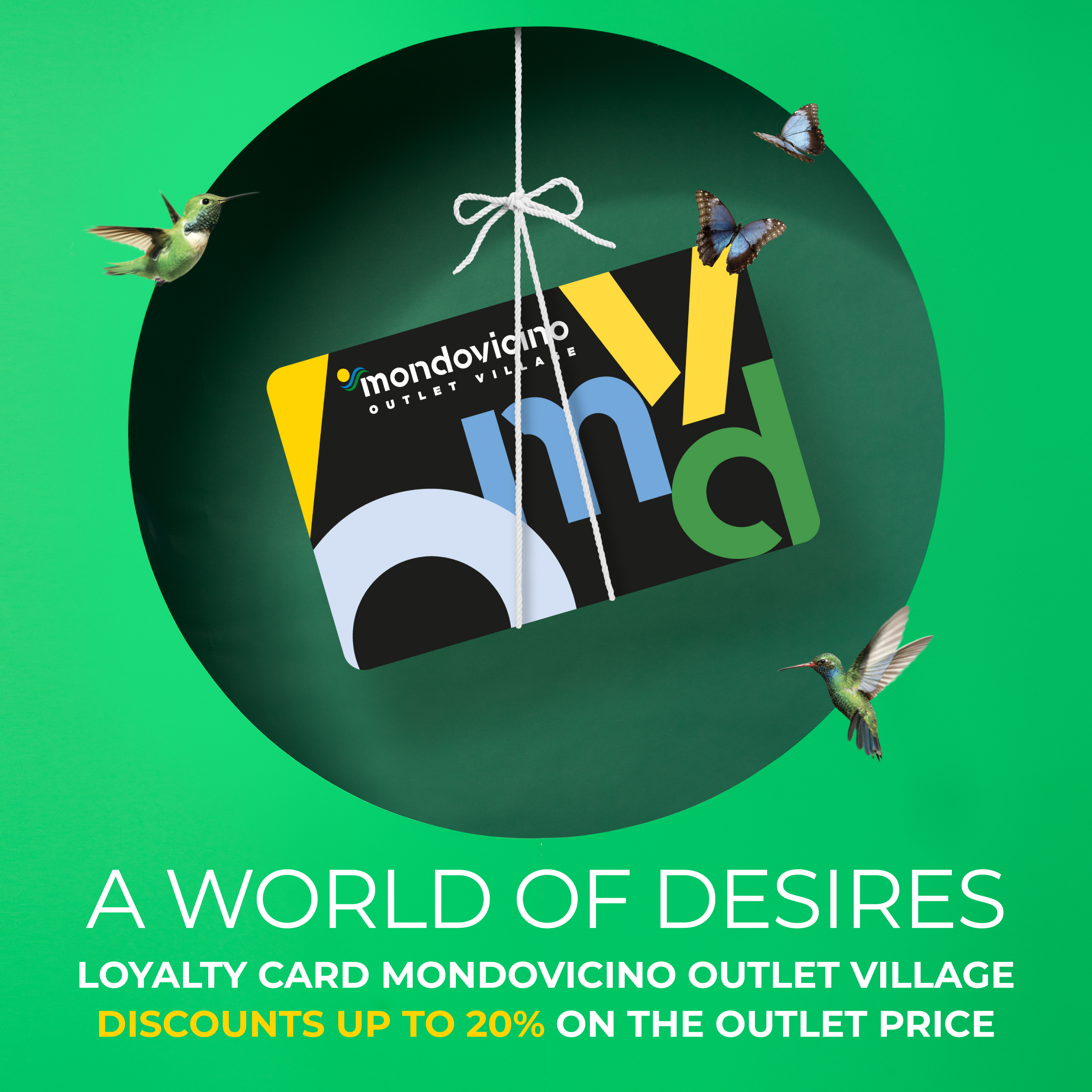 Alviero Martini 1A Classe
Amelie Milano
Angelico
Antologia
Armata di Mare Jeans
Bata
Blumelange Cashmere
Borbonese
Borgo Tessile
Bottega del Sarto
Boxeur des Rues
Brums
Caffè Bistrot La Scuderia
Caffetteria Le Fontane
Camomilla italia
Datch
Deborah Milano
Denim&More
Denny Rose
Enrico Coveri
Excelsa
Facis
Fiorella Rubino
Fralla
Freddy
Gabel
Garage Moda
Gas
Gaudì
Goldenpoint Outlet
Harmont & Blaine Jeans
Harmont & Blaine Junior
Hermitage Uomo
Home & Cook
Kappa
Kennet Street
Liu Jo Uomo
Marina Militare
Marville
Motivi
Motoshop
Odlo – Peak Performance
Oltre
Outly
Perlier Kelemata
Puma
Ragno
Re.publica
Rebelqueen by Liu Jo
Refrigue
Rinascimento
Scorpion Bay
Sisley
Superdry
Tailor Club
Under Armour
Undercolors of Benetton
United Colors of Benetton
Zuiki
RINNOVA LA LOYALTY CARD CON SATISPAY
Da oggi puoi rinnovare la Loyalty Card direttamente con il tuo cellulare con Satispay!
Contatta il nostro infopoint e scopri come fare.
Satispay è un sistema di pagamento completamente gratuito che funziona tramite un'applicazione pensata per gli scambi di denaro tra amici e gli acquisti in negozi fisici e online.
Non sei ancora iscritto? Ottieni un bonus da 5€ per il tuo prossimo acquisto da Infopoint Mondovicino!
Scarica l'app Satispay e iscriviti con il codice promo 54U.